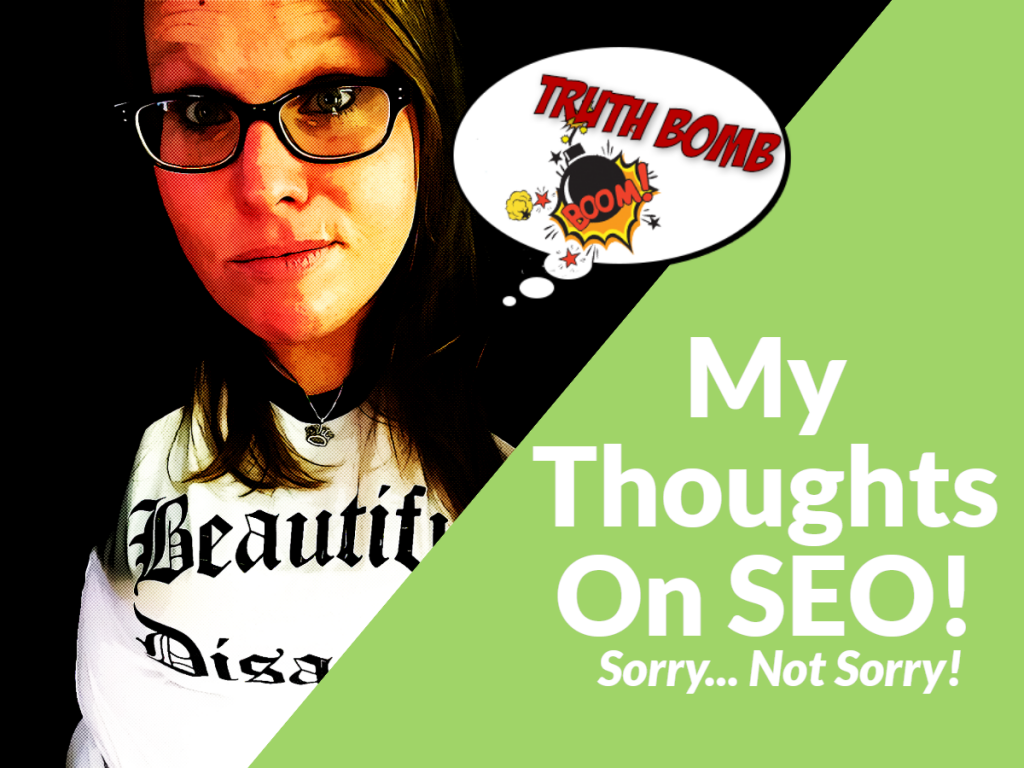 I've been building and marketing online businesses for a long time. Since 2004 and in Internet years that's like 300 years. 🙂
I'm kidding, but I have been around for quite a while and I have seen so many things come and go when it comes to marketing and traffic tactics.
Something that has been around for years that I get asked about all the time is SEO (search engine optimization).
My broad view on it is that it's a waste of your BUSINESS time, and it's basically something that a lot of people make money with in not so ethical ways.
Meaning…
1. Spending a bunch of time working on SEO'ing your entire site and having that as your main focus for traffic (to me) is a complete waste of time. Especially when you're in an ultra competitive niche.
With so many changes in the search engines you never know when you're site is going to get dropped in the results or totally removed. It's VERY time consuming to stay on top of things, and do things the right way.
2. People create crappy software that you THINK you need so THEY make the money. Often times the software doesn't work, or quits working.
3. People offer crappy SEO services that either don't work or they don't follow through on, and YOU don't get any results.
In niches outside of Internet marketing I have a very simple strategy.
I setup a content site that is related to a broad niche that my niche is in.
Example: I have a health (broad niche) content site, but I'm in little niches in the health niche and the site only has content on these niches.
I then focus on long tail keywords and create a piece of content for the site just on these long tail keywords. I have anywhere from 5-10 content pieces (blog posts) created for the content site PER long tail keyword.
I focus PER piece of content in getting it ranked.
My content site is also on a totally different server with a totally different hosting company than the money sites that this content points people to.
I also need to state that this is REALLY good content that keeps people reading. It's not trash created for $5 for 500 words.
AND… I don't spend much time at all on these content sites. I hire people to do it for me. Because the amount I pay people each month to do this stuff for me, I make more money back (MOST of the time) each month. It doesn't make sense for me to do the SEO myself.
This keeps me from having to stay on top of what is and isn't working for SEO, and keeps me from buying crappy stuff related to SEO.
You wont see me teach SEO.
I'd rather spend my time optimizing videos for YouTube search or optimizing my Pins for Pinterest search because I get way more traffic from that stuff anyway.
Side Note: If you want to learn Pinterest marketing from me click here. If you want to learn YouTube marketing from me click here.
So… That's my two cents on SEO.
I've created this post for two reasons…
1. I get asked my thoughts on SEO so much that I needed a place to post a full answer so I can send people here when they ask.
2. As a discussion piece and based on comments here I will expand on what I've covered here, so… Use the comments below and let me know of any questions or comments that you have and I will update this post as needed.
Note: I partner with AWESOME companies I TRUST that offer products that help YOU! If you purchase through my partner links, I get paid for the referral at no additional cost to you! Read the affiliate disclosure for more info.