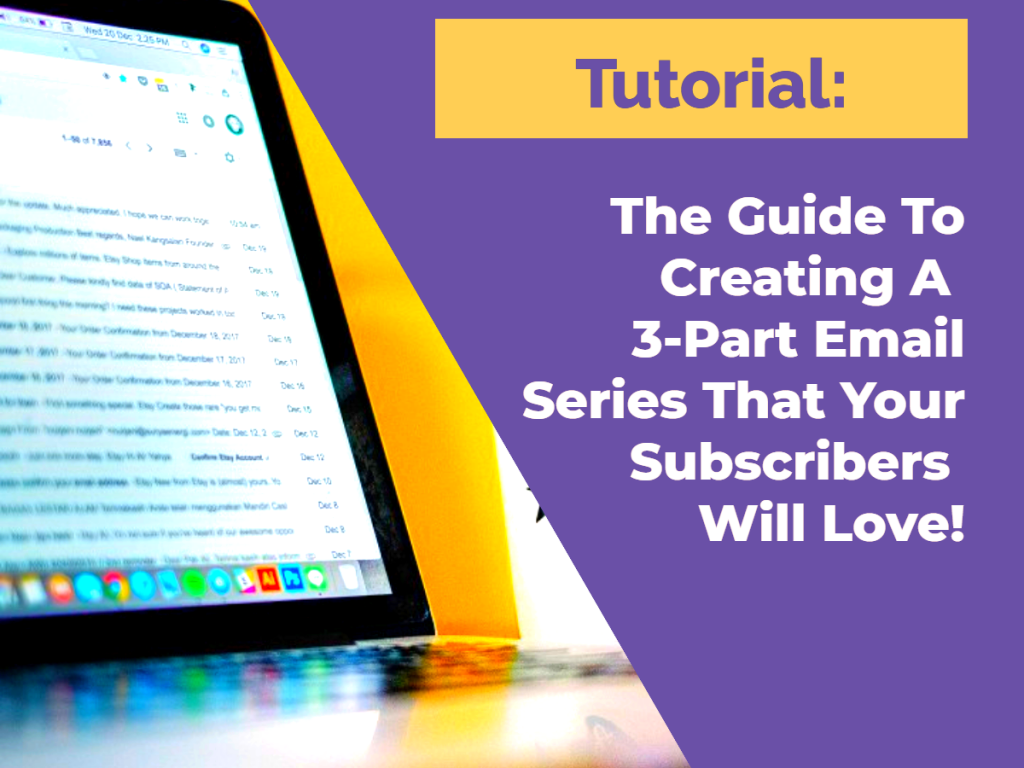 One of the best ways to improve your conversion rates for a particular promo is by sending a series of emails.
Here's why:
1. People usually don't buy something the first time they hear about it. So when you reach out multiple times, you increase their desire for the product… and your conversion rates increase.
2. Multiple emails give you multiple chances to reach prospects. Not every prospect reads every email you send. So when you send out several around the same promo, you get more people seeing that promo. That means higher conversions rates.
So how do you grab these benefits for yourself?
Simple: by following this three-step guide to creating an effective three-part email series.
Here are the steps:
Step 1: Choose a Trending Topic
The first step is to choose an in-demand topic that's already trending in your niche.
Choosing an in-demand topic means your readers are already interested in it, which is a good thing. Choosing one that's trending means that interest is continuing to climb. A trending topic also lets you jump into the conversation that your prospects are already having with others.
Now here's the key, of course: this trending topic needs to be relevant to whatever it is that you're selling. For example, if you're in the weight loss market, you might talk about a new diet that's getting a lot of buzz.
Here's how to find these hot topics:
Check the news. Big media agencies spend a lot of time and money figuring out what topics will attract interest, so they're often the first source of trending topics.
See what's trending in niche communities. Check out blogs, Facebook groups, LinkedIn groups and other communities in your niche. Then take note of which topics get a lot of discussion, likes and shares.
Find out what's selling. Check marketplaces like Amazon and Clickbank.com to see what sorts of topics people are buying. If they're already buying information on a specific topic, that's a darn good sign that they're eager to know more about it.
Check Google Trends. This will give you an idea of whether interest in a topic is increasing. (See www.google.com/trends.)
Check social media. Sites like Twitter and Facebook let you check what's trending in your niche.
Next step…
Step 2: Outline Your Emails
Once you select your topic, then you need to outline three emails around this topic. One good way to do this is by offering three separate steps, tips, secrets, ways or ideas.
For example:
Three Ways to Boost Your Metabolism
The Easy Three-Step Process for Creating a Three-Part Email Series
The Three Secrets of Retiring With $1 Million In The Bank
Three Awesome Kitchen Remodeling Ideas For Under $250
The Three Warning Signs of a Heart Attack That You Should Never Ignore
Keep in mind that each email should range from about 400 to 600 words. So choose tips, steps, or secrets that you can cover somewhere within this word range.
Once you know what three steps, tips or secrets you'll cover in each email, then it's time to get writing.
Which brings us to the final step…
Step 3: Solve Part of Your Prospect's Problems
Each email you send should do two things:
#1: It should provide useful information to your readers. This first part is where you impress your readers by giving them good content that helps solve their problems.
#2: It should promote a paid product. This is the part where you benefit.
So how do you strike a balance between content and pitch?
Here's the first secret: Send an email that's at least 75%-90% content, with the rest of it being focused on your promotion.
Here's the second secret: The content portion should be useful yet incomplete. That means that you should help solve PART of your readers' problem, but they need to order your product in order to solve the rest of their problem. In essence, your free content should naturally and seamlessly lead to the paid product.
For example:
You send out a three-step process for setting up a blog. You then promote a set of blog themes and plugins at the end of each email.
You create a series that shares three tips for losing weight. You then sell your full dieting course at the end of each email.
You create an email series that shows people how to set up a successful Facebook ad campaign. You then offer your "done for you" campaign-management service at the end of each email.
You get the point. Your email solves part of the problem, which naturally leads to the product that solves the rest of the problem.
Are you ready to boost your conversion rates, make more sales and enjoy more profits from your mailing list? Then put to use the strategy you just learned about for sending three-part email series.
It's as simple as:
1. Choosing a Trending Topic
2. Deciding What to Write About
3. Solving Part of a Problem
This is a tried and true formula that works for me, it's worked for countless others, and I know it will work for you too. So put it to work for you as soon as possible to see what kind of results you get!
Need email marketing help? The Email Marketing Kickstart Workshop is ready for you to enroll! If you want to learn how to use email marketing in your online business, get people to open your emails, click your links, and buy then you NEED to grab your spot right now at http://www.LearningIM.com/email-marketing-kickstart-workshop
Note: I partner with AWESOME companies I TRUST that offer products that help YOU! If you purchase through my partner links, I get paid for the referral at no additional cost to you! Read the affiliate disclosure for more info.