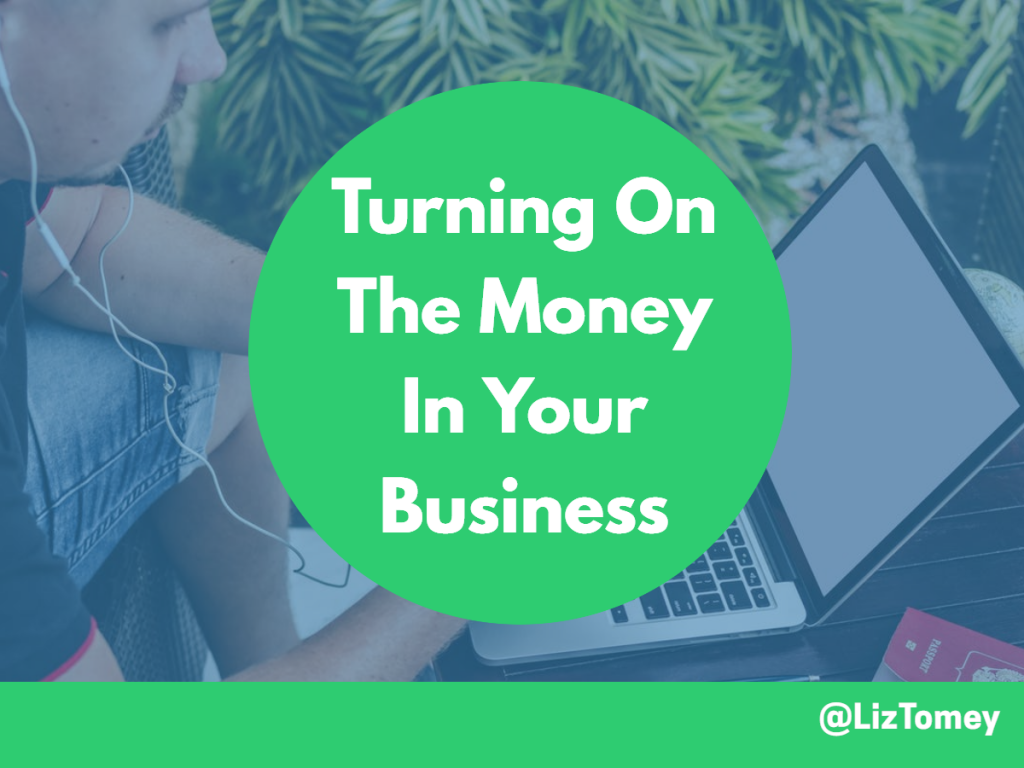 And we're back… This is the third installment in a series of five blog posts I'm doing all talking about building an online business in a niche that you love and that actually makes you money.
I'm talking to those of you who don't have an online business setup yet and/or who have failed at getting one setup.
In the first installment in this series I talked about finding a niche that you LOVE. You can see that post at http://liztomey.com/blog/do-you-love-your-niche
In the second installment in this series we talked about building a business foundation which is VITAL to do once you have your perfect profitable niche picked out. If you missed that post you can see it at http://liztomey.com/blog/the-biz-foundation-method
Now once you have that perfect profitable niche AND a business foundation set up then you're going to move on to monetization and that's what we're going to be talking about in this post.
Show me the money!
So first things first… Depending on what your niche is will depend on how you're going to monetize it. You can also do "monetization stacks" where you use multiple monetization methods.
For example… In my Internet marketing business where I help people build and marketing online businesses, I sell my own digital products, but I also selling coaching, make money as an affiliate marketer, sell services, and have even sold physical products (a tshirt).
That's monetization stacking.
So let's say you're in the weight loss niche. This is a niche I'm going into and letting my attendees of the Get An Online Business Workshop watch me develop. I have created my business foundation in it and will be monetizing it by…
1. Creating my own digital products. (Journals and trackers and stuff like that. No ebooks or courses. I want to give people tools not teach in this niche like I do IM.)
2. Physical products. (Creating branded supplements, powders, etc., physical journals and trackers)
3. An mobile app. (Obviously not sharing the details there. 😉 )
4. Affiliate links
There are so many different ways you can monetize your business once you have a business foundation setup.
Here's a short list…
1. Digital products you create. (Ebooks, courses, software, app, etc.)
2. Physical products. (The list is never ending here. 🙂 )
3. Products your an affiliate for. (Again the list is never ending here and you can promote physical and/or digital products)
4. Ads (You can sell advertising on your site, emails to your list, put PPC ads on your site, and so much more.)
Now there are tons of sub categories for each of those things, but those are basically your options.
And as I said you can use one or all or any number of them in between that you want.
You simply need to research what people in your niche want and give it to them!
Whether you develop the products yourself, pay others to develop them for you, and promote products as an affiliate, you still need to find what your people want, and then figure out how to give it to them.
Okay so we've gone through the first three steps here…
1. Find your perfect profitable niche
2. Build your business foundation
3. Decide how you're going to monetize it and DO it.
The next thing we're going to talk about is…
TRAFFIC!
Once you have your niche, you've built your business foundation, and you've gotten everything monetized you need to turn on the traffic, and that's what we're going to be talking about in the next installment of this series.
If you'd like to learn how to do all of this then I highly recommend that you grab a seat in my Get An Online Business Workshop where I will show you how to do all of this step by step!
https://www.LearningIM.com/get-an-online-business-workshop-wp
Here's what you're going to learn in this live 5-day workshop.
Day 1: You'll learn how to pick a niche, make sure it's profitable, and make sure it's one you're actually going to enjoy so you don't get bored and wander off. 🙂
Day 2: You'll learn how to create an online business foundation that is absolutely VITAL to your success. This system is super easy to setup and can be done in about a day! Sorry no push-button BS here.
Day 3: This is the day you'll learn how to monetize your new business foundation so you can actually make-money with it! Yeah baby!
Day 4: Want to REALLY know how to get traffic? This is the day you'll learn the TRUTH about getting traffic and how to make sure you're ready for it.
Day 5: Clueless as to what you need to do each day to run an online business? Today is your day then because you're going to learn everything you need to do daily to keep your business making you money 24/7.
Here's the bottom line…
Right now you have the chance to clear the fog and confusion from your brain and be lead straight to success by someone who has been running multiple online businesses for almost 15 years now.
ME! 🙂
With what you're going to learn PLUS having all the help you need you're going to be unstoppable!
NOW is YOUR chance to grab a seat in the Get An Online Business LIVE Workshop (at a HUGE discount), and finally get that business setup that you WANT for the freedom lifestyle that you NEED!
BUT… You only have a few days to get in on this offer, so do this NOW!
https://www.LearningIM.com/get-an-online-business-workshop-wp
Okay… Shameless plug over. 🙂
I'll see you in the next installment in this series in just a couple of days.
Talk soon!
Liz
Note: I partner with AWESOME companies I TRUST that offer products that help YOU! If you purchase through my partner links, I get paid for the referral at no additional cost to you! Read the affiliate disclosure for more info.