I recently went through John Thornhills Simple Traffic Solutions course at http://www.ThisKicksButt.com/SimpleTrafficSolutions and loved it! He shares so many tactics in the course and I can't recommend it enough!
So over the next few days I'll be sharing with you some of my social media tactics that I am using and that are working in my business.
Today I want to talk about how I use Google Plus…
I started with creating a "community" which you can see at https://plus.google.com/u/0/communities/108446638436469430656
I of course sent an email to my list telling them about this community.
As more people join they share my content, and that gets more people into my community.
It starts a viral effect basically…
Now I can post great content into this community with a link to my squeeze page and all those people that are joining my community start getting on my list.
Now I can send those people to any other link/offer/site I want. 🙂
Super easy strategy that you can use… Just provide good content that people will want to share and you will see your community on Google Plus grow, and more people getting on your list.
How easy is that?
Here's a diagram of how this works to help you better understand…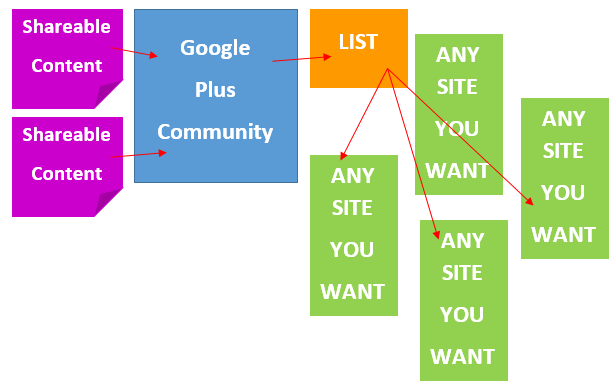 Okay so that's it for my simple Google Plus strategy. I'd love to expand on this topic more, so if you have questions make sure and leave your comments below…
Liz