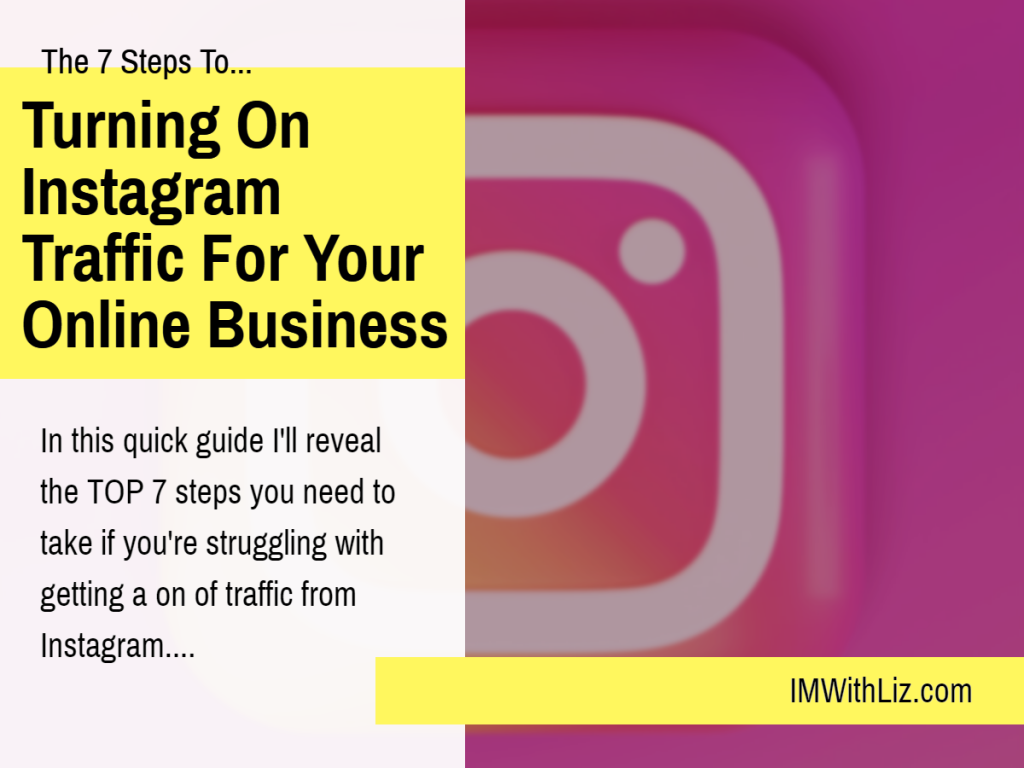 Instagram is one of the Internet's giants when it comes to traffic, and if you know how to use the site right you can get a ton of that traffic into your own business.
You can literally make that traffic flow to anything you want…
Your lead capture (squeeze) pages, sales pages, blog posts, affiliate links, and anything else you have that you want to put in front of people.
But let's face it… You can't just post "whatever" and get a ton of traffic. You have to know how to use Instagram and what you need to do so that you can get all of the traffic you possibly can.
Bottom line… If you're not using Instagram correctly you are wasting your time! 😭
So today I want to give you a quick Instagram strategy that you can start using right now to funnel the traffic on Instagram into YOUR business.
Let's go through this step-by-step…
Step 1: Know And Understand How Instagram Works
Now this step seems obvious, but I see a lot of people who are struggling with Instagram and their biggest problem is they don't truly understand how Instagram works.
Yes it's ANOTHER social media site, but every social media site works a bit different, and has different areas. With Instagram you have regular posts, Stories, Reels, and IGTV. You need to make sure that you understand the purpose of each of these areas and which ones you will use.
HINT: I highly recommend you use and get good at each area individually before you move on to a different area. Figure out just posting on Instagram first, then maybe move on to stories, and then IGTV, and finally Reels.
Once you understand how Instagram works and decided on what areas of it you will focus on then it's time to move on to Step 2…
Step 2: Have An Optimized Profile
99% of the time when someone tells me they aren't getting any traffic from Instagram, I go to their profile, and right away I see why. There profile isn't optimized! You have to setup your Instagram profile correctly or you will NEVER see any traffic.
Here's a quick run down of what you need to do with your account…
1. Make sure you're using a Business Account.
2. Include keywords in the Name section. Use your main keyword here.
3. Make sure you username is your name or your brand/company name.
Hint: You should be using the same username on ALL social media sites for you/brand/company. Example: I use liztomey for my main marketing brand, and every account I have that's my username.
4. Have a profile picture that is YOU or your logo.
5. Your bio needs to have a few things in it, and you have very little space to get it all in. Your main keyword, your main hashtag, exactly the solution you provide, and a strong call to action are all important. You've got to work to get this all in your little bio.
6. A link! This is going to be different for everyone and will depend on your strategy.
ALL of those things are important to your profile and of course there's a lot more that goes into each thing, but those are the things that you need to focus on.
In the Instagram Traffic Takeover Workshop I cover optimizing your profile, so if you'd like to learn this important step make sure you grab a seat in this workshop at https://www.LearningIM.com/InstagramWorkshop
Step 3: Have A Hashtag Strategy
Hashtags are the #1 way people will find your posts on Instagram. You've got to know which ones to use, how many to use, when, where, and how often.
If you don't have a complete hashtag strategy you will NEVER get traffic from Instagram. This is a vital piece of the puzzle, so make sure you get this down, and you continually work on it.
YES! Your hashtag strategy is always in development. 🙂
In the Instagram Traffic Takeover Workshop I show you my exact hashtag strategy and how you can develop your own from scratch. I developed this from lots of trial and error and it works really well! If you'd like to learn my strategy then come join me in this workshop at https://www.LearningIM.com/InstagramWorkshop
Step 4: Know And Understand Instagram Content
Now of course there's only images and videos that can be posted to Instagram. You can add a caption with text, but people are on Instagram to SEE.
For my LizTomey.com brand I focus on motivational content, educational content, and bonding content.
I use image/video quotes, memes (images and videos), gorgeously designed graphics to promote my blog content and other money makers, pictures and videos of my daily life, etc.
And each piece of content has a goal!
Sometimes it's to advertise something that makes me money. Sometimes it's to allow my followers to get to know me, sometimes it's content JUST to get more followers.
You need to decide what kind of content you will use and have a goal for every piece of content that you post on Instagram.
And, YES!, I do cover the different types of content, creating content, and what to use the different types of content for in the Instagram Traffic Takeover Workshop 🙂
Step 5: Use The RIGHT Automation Strategy
It's only been in the last few months that I've started using automation in my Instagram traffic strategy.
Why?
Because Instagram cracked down big time on autoposting to their site. There are only certain companies who provide automation solutions and are authorized and comply with Instagram.
If you're not using the right automation solution in the right way then you will never see much traffic from Instagram, AND even worse you could get banned totally.
Automation is the key to saving a ton of time on your Instagram strategy, but be very careful with using automation!
Step 6: Work Daily To Get Followers
This is the BIG thing. Your followers are where MOST of your traffic is going to come from and besides hashtags there are many other ways to get followers on Instagram.
The bad thing… Many of those ways get you "bad followers". People who never interact with you and will never spend money in your business.
You want followers that like your content, comment on your content, come into your business, and spend money with you. I mean it's great to have a ton of followers. That number looks great, but if it's JUST a number then what is it doing for your business?
Nothing!
You want to use tactics that get you REAL followers that are going to do things to make you money! I have a whole arsenal of tactics I use and I'll be sharing them all in the Instagram Traffic Takeover Workshop.
The main thing you need to understand is there are more tactics than just using hashtags to build a good strong following, AND you don't have to have a HUGE following to get results!
Step 7: Have A Day To Day Instagram Plan
Last, but most importantly… Getting traffic from Instagram is NOT a set it and forget it kind of thing.
You have to work daily (even if it's only 15-20 minutes) to keep getting traffic from Instagram.
Creating content, posting content, using your hashtag strategy, using other strategies to get more followers, interacting with your followers, are all things you will need to do, and by having a daily strategy you can get it all done quickly and in a way that keeps tons of traffic coming into your business.
Okay… So I kept this as short as possible and of course there's a lot more that goes into each step, but at least this little guide will get you started on the right path and show you what you need to know to get started with getting traffic from Instagram.
If you'd like to learn every part of this, and see how I'm using Instagram to get traffic into my business so you can do the same thing I invite you to participate in my Instagram Traffic Takeover Workshop at https://www.LearningIM.com/InstagramWorkshop
I cover all 7 of these steps and more in this workshop (and MORE), and by the time you go through it (5 easy daily lessons) you will be an Instagram expert and have all the know how to use Instagram to create a never ending stream of traffic into your business!
https://www.LearningIM.com/InstagramWorkshop
If you have any questions about what I've covered here, just leave your comments below.
I wish you much success on your Instagram journey. Not only can you get a TON of traffic with a good Instagram traffic strategy, but it's so much fun too!